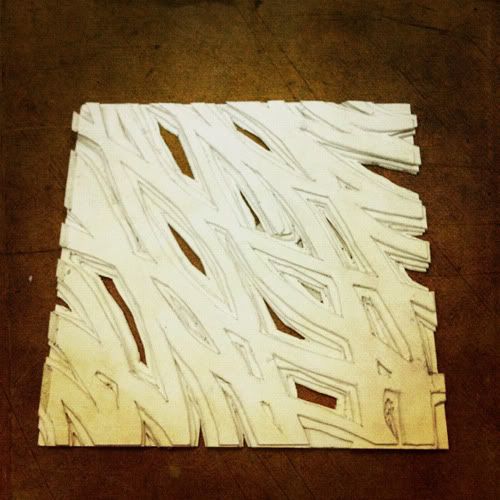 Let me take you to homework haven...


A shot of the RSID studio.
More studio shots.
This is actually a shot from Uxbridge where I went for a day to visit the studios of various artists living there.
(All these square images are taken from Instagram)
This is my first assignment that I have actually finished. It's supposed to be drawings of a stone in various
different scales -- only it doesn't really look like a stone because I drew everything too smoothly. I changed
some parts of it before I handed it in but all in all, it looks something like this. Maybe I'll take a better picture
when I get it back or something! But good learning experience!
This is my project for my Design Dynamics studio which I have been (and still am) slaving over for the past
few weeks. It's getting to the point where I'm just so ready to be done with it. Actually -- I'm supposed to work
on a bigger piece for tomorrow but I haven't done a thing at all. Ooops. I'm so behind in this.
Close up. This took ages to glue on hahaha.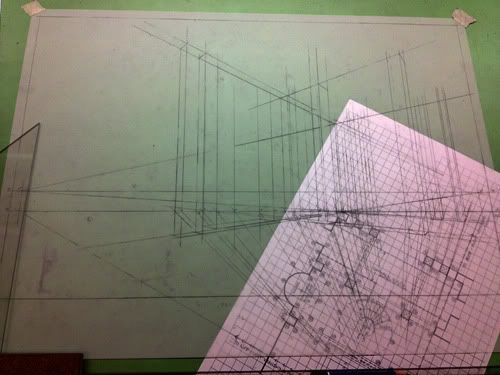 Perspective drawing which we have to pull up from a floor plan.
This is what it's supposed to look like!
An assignment for Communications. It's a house in Uxbridge (I'll get photos from there up someday... I also
have some of my Japan/China photos which I ought to get up too). It's supposed to be a sketch for an "Emotive
Space", but it didn't end up being very emotive. So, redo.
Emotive Sketch #2 (we have to do a total of 5). I don't know if it turned out very emotive but the feeling I was
aiming for is something along time lines of "empty", "void", "abandoned"...? Someone tell me if it feels like that,
please. Hahah. But anyway, 1.5 hours sketch! Probably the fastest I've done ever. It feels good to push myself.
Also the first time that I've used such a huge amount of different drawing materials in a drawing -- markers,
pencils, and pen. Another note: this is the reason why I don't use primas. Their greys are really nice but when
applying they aren't as smooth as copics. Gotta get myself some more copics!
Random picture of myself in a wig. I LIKE THIS WIG.
Hey guys I dyed my hair.
And yeah I kinda cut my bangs too short but it's growing out. ...The point of THIS photo is the dress -- I got it
from Grimoire in Japan and I love it so so so much?? It's a vintage (apparently?).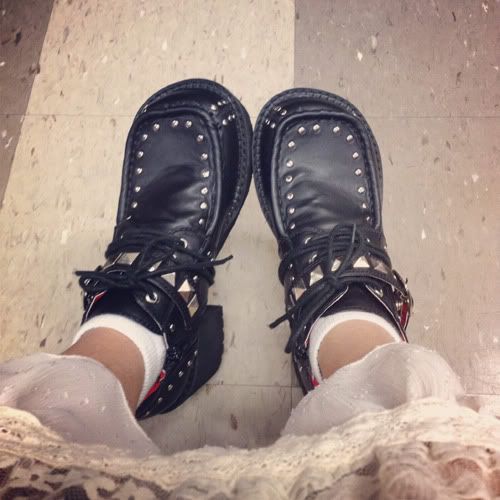 My rocker punk shoes. Love this to bits too.


Anyway, on Friday (21st), I went to IIDEX 2012. It's basically this Interior Design show and us RSID kids are recommended to attend. The exhibit hall is free, but lectures/seminars costs about $65... Here are some of the more interesting photos I took at IIDEX -- because it's just an amazing show, I fell in love with some of the furniture (mostly chairs) there.


I just really like the twists.
This is like an installation in the back of a truck of lights and metal sheets -- it's really pretty IRL!
I don't know why there are these things doing in an interior design show but I love the designs so I took a picture.
I guess it's to showcase textiles since we do need to think about those as well...?
Omfg, this chair! I fell in love with it and I want one for myself so badly hahaha. It changes colour.
Chair by Zuo.
Lights by Zuo as well. Zuo has some really cool stuff.
I just thought that these looked really cool arranged like this?
I have no idea what this is but it looks cool.
Ugh, this tree -- it's amazingly nice. The lights go on and off and it's just so beautiful... Too bad it must waste a lot
of power...
Apologies for my fat finger and blurry pictures. I forgot my DSLR at Scarborough so I had to rely on my iPhone
which isn't great -- clearly. Anyway, these pictures and the following one came from a sketchbook which was
open to display at IIDEX, and it's drawn by the designers over at HOK. I just really love the colours and the minute
details here. It looks a lot better IRL.
HOK...
I wish I could draw like this one day.
Again, from HOK. It's just so cool, these things.
And something inspirational. There were, of course, more sketchbooks to look through but I didn't exactly take
photos of them all.